Mon, 12/20/2010 - 15:13 — M. Penny
Being home for the holidays with family and family-animals conjures warm feelings, if not also a warm fireplace.
But sometimes the home is someone else's and it's just not possible to take the four-legged family members, or they need special attention, and basic boarding facilities just won't do. That's why we offer boarding, so they can be here with us, for the times they can't go with you.
During 2010, we expanded our boarding facility to include new luxury boarding. Luxury boarding means larger suites with deluxe bedding for the comfort of home away from home. As with our regular boarding, we include complimentary twice-daily medication administration and periodic email updates throughout the stay.
Luxury boarding, however, only applies to dogs. Even if your cat's personality can fill up a full suite, they are still designed for canines. Besides, what cat wants to be the only feline in a wing full of dogs? Ewww.
Anyway, here is what they look like: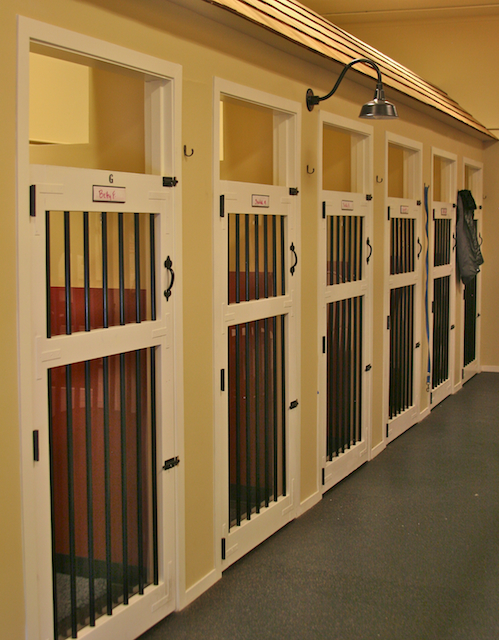 Of course, all animals are given plenty of attention. During the holidays this is particularly true, since we add staff shifts to accommodate the increased boarding population as well as our desire to play with them and share the festivity of the season.
Apparently word's getting out, since we were completely booked for the Thanksgiving week, and we're sure to book up for Christmas and New Years. Already, we only have a few slots left before we have to break out the waiting list. Fair warning, eh?
Oh, and one more thing: if you are boarding with us, you can now download the boarding form, fill it out during the many commercial breaks of your favorite football game (or whatever), bring it with you and save some time checking in. Grab it from the
forms page
.
Of course, even though we do love taking care of them, we'd still prefer it if you can enjoy a jolly holiday with all of your loved ones, including any fuzzy buddies. Minus any nipping at noses, ho ho ho!